In an effort to ramp up school spirit, students at Saint Viator High School are being encouraged  to sing the school's fight song at every pep rally, student assembly and before every athletic event.
With a new drum line driving the beat, the song — thought to date back to the start of the school — took on renewed energy and did indeed invigorate the entire school community.
Turns out there is more to this story than meets the eye. The school's new band d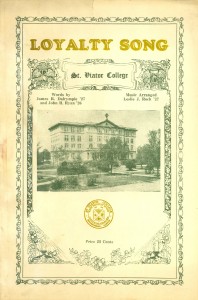 irector, Vince Genualdi, undertook some research to find out more about the composer and lyricist. With the help of Viatorian Archivist Joan Sweeney, he learned that the creation of the song dates back 90 years, long before Saint Viator High School opened.
The so-called "Loyalty Song" goes back to St. Viator College in Bourbonnais, which the Viatorians ran from 1868 to 1938. A pair of students, James Dalrymple and John Ryan responded in 1925 to a contest offered by the college to come up with a "good lively college song." Their classmate, Leslie Roch arranged the music.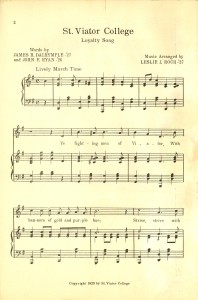 It took until 1929 before the song was copyrighted, but a piano verson, complete with lyrics, was published that year.
That same Loyalty Song, written during the Roaring '20s, and published before the start of the Great Depression, is the one that Viatorians brought to their new school, Saint Viator High School, when it opened more  than 30 years later, in 1961.
The lyrics and melody are the same, and now provide the kind of tradition that St. Viator College administrators hoped for, back in the 1920s, when they offered a prize to students who would create a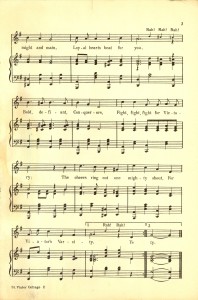 "traditional school song." Here are the original lyrics:
Ye fighting men of Viator,
With banner of gold and purple hue,
Strive, strive with might and main,
Loyal hearts beat for you.
Rah! Rah! Rah!
Bold, defiant conquerors,
Fight, fight, fight for victory,
The cheers ring out one mighty shout,
For Viator's varsity.
Rah! Rah! Rah!