David Baron grew up attending St. Patrick's Church and Bishop McNamara High School in Kankakee, where in both places he interacted with Viatorians — and their commitment to social justice.
His education would take him to the University of Notre Dame and Harvard Law School, and ultimately land him work with one of Chicago's most prestigious law firms, followed by work as an attorney with the City of Chicago.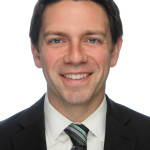 However, a mission trip taken 20 years ago to Pembroke Township when he was a teen — with a youth group led by Viatorian Associates Ken and Michelle Barrie from St. Pat's — shaped his life.
Baron reflected on that trip, today, as the keynote speaker at the March Prayer Breakfast in Kankakee, where he reflected on "The Grace and Paradox of Pembroke."
He and his wife, Anya, moved back to Kankakee in 2018, where Baron joined his father's law firm, Deck & Baron, and immersed himself in revitalization efforts in the city. In January, Baron was named Young Citizen of the Year by the Kankakee Daily Journal.
Baron maintains his trip to Pembroke planted the seed for social justice and fighting for the rights of the marginalized. Pembroke is located just 20 miles from Kankakee and is one of the poorest parts of the
country. But Baron and his peers on the mission trip found residents living on the margins but filled with happiness and faith. Teens continue to find that same paradox every year on the Hearts of Hope Mission Trip, led by the Barries.
"I went to a community known for its poor conditions," Baron says, "but instead I witnessed a richness of spirit."
In 2016, he wrote a book about the history of the region and of some of its memorable residents, called Pembroke: A Rural, Black Community on the Illinois Dunes. Baron continues to speak publicly about Pembroke and in 2017, his book won the annual Award for a Scholarly Publication from the Illinois State Historical Society.