Parishioners at St. Patrick Parish in Kankakee are planning a banner celebration on June 9. That's when they will honor a combined 130 years of their three resident priests.
Fr. John Peeters, CSV, pastor, celebrated his 30th anniversary to the priesthood on April 30, while associate pastors, Fr. Donald Wehnert, CSV, and Fr. John Eck, CSV, will reach their 50th jubilees on June 8.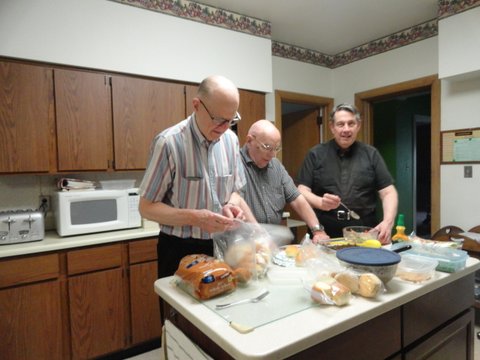 All three will con-celebrate Mass on June 9, before sharing in a joyous celebration with parishioners in their Knights of Columbus Hall.
Fr. John Peeters brings an international flavor to his ministry, having served in Rome as the secretary to the Viatorians' superior general as well as in Colombia and Belize, before settling into parish leadership.
Fr. Wehnert spent the bulk of his priesthood in pastoral ministry, including 25 years at St. Pat's. "He is admired by the many people he has served — not only as celebrant of Sunday and daily Masses, but also by living the corporal works of mercy," says his confrere, Br. Don Houde, CSV.
Fr. John Eck spent nearly 30 years in education, especially drawn to students who did not fit into the traditional school environments. His last 20 years have taken him to different parishes where Viatorians serve, including as pastor at St. Viator Church in Chicago.