With COVID-19 surging again in Illinois, increased restrictions are making trick-or-treating a challenge for families this year. Yet at Maternity BVM Parish in Bourbonnais, a relatively new tradition fit the bill: trunk-or-treating.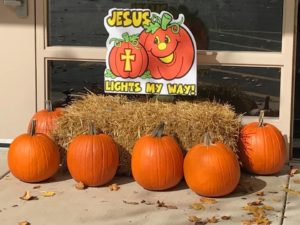 Parishioners — dressed in costume — parked their decorated cars in the school parking lot. Themes ranged from Jurassic Park to Minnie Mouse to Charlie Brown and the Great Pumpkin — with lots of scarecrows, skeletons and witches in between. Some clever family members even devised contraptions to dispense the candy — in a social distancing kind of way.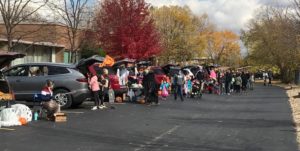 The fun-filled, spooky event drew a long line of families, who enjoyed the free event with other parish members.
"Trunk-or Treat was a huge and safe success," said Julie Worby, director of advancement for the parish, who helped organize the afternoon.
To the Viatorians who serve the parish, including Fr. Jason Nesbit, CSV, Pastor, and Fr. Dan Lydon, CSV, Associate Pastor, it's one of many activities designed to build community. After all, one of the core principles of the Viatorians' vision statement is raising up communities of faith.