Fr. Daniel Nolan, CSV, is enjoying his retirement years, living among his confreres at the Viatorian Province Center. But among his roles in active ministry, the three years (2008-2011) he served as rector of Keenan Hall on the campus of the University of Notre Dame, made a profound impact on at least one of its residents.
John Kyler lived in Keenan Hall his junior and senior years at Notre Dame and in his senior year (2009-2010) he was employed by Fr. Nolan to be a resident assistant, or RA, on one of its floors. As an RA, he worked with Fr. Nolan in assisting students with the academic, spiritual and social dimensions of their college experience. Yet he also worked with Fr. Nolan to plan weekly liturgies, and it was from those experiences that he drew inspiration for his latest book.
Kyler now works for Liturgical Press in Collegeville, MN, where he serves as General Editor for Parish Resources. He oversees its line of pastoral products, including everything from missalettes and ritual books to ministerial formation and spirituality titles.
He also is a published author and in his latest book, Welcome All as Christ: Reimagining Parish Hospitality, he includes Fr. Nolan in his acknowledgements.
"I always appreciated Fr. Dan's kindness and the way he lived a life of prayer and ministry," Kyler says. "It was humble and Spirit-filled. He was one of the first people to really teach me what authentic Christian hospitality looked like: creating a safe space where each person can share their God-given gifts and talents in service of others."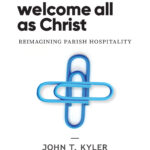 Kyler and Fr. Nolan have stayed in touch over the last 12 years, and yet Kyler says it was his experience of working with Fr. Nolan during his undergraduate years at Keenan Hall that shaped his new book on hospitality.
"If we are going to survive and thrive as a church, we must welcome people with intentionality through our words and actions," Kyler says. "We must be mindful of the language and images we use to describe God, remembering that they have the power to either build up or destroy this sacred relationship. Fr. Dan taught me this and it is something I try to remember as I minister today."
This year, Fr. Nolan celebrates 50 years or religious life. His five decades of ministry have included serving as a high school teacher, associate pastor and pastor of several parishes, and ultimately serving as a chaplain and Campus Ministry Director. Through it all, he has lived out the Viatorian mission of ministering to and with young people, while raising up communities where faith is lived, deepened and celebrated.