Fr. John Van Wiel, CSV, taught chemistry at Saint Viator High School for 25 years before he retired in 2013. He was a popular teacher, whom many alumni later credited with launching their careers in science.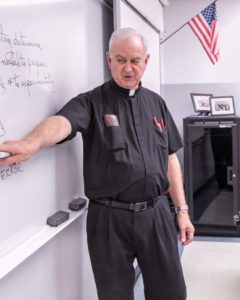 Yet, earlier this month, Fr. Van Wiel was honored by a former colleague from Alleman Catholic High School in Rock Island, IL, not for his teaching ability but for his leadership as principal.
Constance Parkinson taught French at Alleman for seven years, all of them during Fr. Van Wiel's term as principal, which stretched from 1973 to 1984. She went on to work at a French bank in Chicago, earn her MBA and carve out a 30-year career in the banking industry.
Yet, when deciding where to make a charitable donation from her 401 K retirement plan, Parkinson  reflected on the one person whose influence had helped to shape her life: Fr. Van Wiel.
"The bosses I respected the most and who were, in my opinion, the most successful, always displayed the qualities that I had first experienced under the leadership of Fr. Van Wiel," Parkinson said. "He looked at the big picture as he guided his staff to develop a vision, to write mission statements, goals, objectives and to put it all to practice for the benefit of the students.
"Fr. Van Wiel provided the support needed by the staff," she added, "and left us with the feeling that he believed in us and trusted us to do a good job."
For Fr. Van Wiel, it was a labor of love. He was a product of Alleman High School, attending Alleman during the first four years after Viatorians arrived, 1953-1957. After earning an undergraduate degree in chemistry at Loyola University in Chicago, he began his teaching career at Saint Viator High School, for one year, before spending the next seven years at Bishop McNamara High School in Kankakee.
By the time he returned to Alleman in 1973, Fr. Van Wiel had earned a master's in chemistry from Catholic University of America in Washington DC and another master's in education administration from the University of North Carolina in Charlotte.
"I was 32 when I first became principal," Fr. Van Wiel says. "I always felt that all of us would have to work as a team if we were to have an excellent school. I had to visit the classrooms and evaluate more than 50 teachers every year. I was also in charge of finance and hiring substitutes and new teachers."
Yet, what Parkinson remembers is his presence and accessibility in the school. Fr. Van Wiel agrees and adds that his visibility and engagement with the faculty was intentional.
"I began to have faculty parties at the beginning of the school year, at Christmas, and at graduation so we would get to know one another better," he says.  "I also ate in the faculty lunchroom with the teachers and walked around the school each period. That way the teachers knew me more and I knew what was going on in the classrooms."
Still, he says he drew his inspiration from the Viatorians who taught him back in the 1950s at Alleman. They loved what they taught, he says simply.
Over the years, Fr. Van Wiel has drawn great satisfaction from hearing from former students who thanked him for playing a role in their careers, but upon learning that Parkinson made her donation to the Viatorians in his honor, well, that left him nearly speechless.
"This not only makes my day," he quipped, "it makes my year!"