Viatorian associates in St. George Parish in Bourbonnais are taking turns each week in Advent to reflect on ministries they are involved with — and the need for vocations. This week, Associate Curt Saindon describes his work with Fortitude Community Outreach, a street ministry designed to connect needy and homeless individuals with resources and assistance.
"Fr. Querbes, founder of the Clerics of St. Viator, believed strongly in ministering to the poor and those of little significance, both through education and service, and these goals align perfectly with my beliefs. Having been called to become more involved, I am now entering my seventh year as a Viatorians Associate, and I couldn't be happier with my decision to join the Viatorians.
"I have spent most of my adult life working in education, in both Catholic and public schools, and I believe that education is the key to raising your standing in life. However, there are those who have, for various reasons, not been able to escape the vicious cycle of poverty, and we are obligated to help them out as best we can…and that is where Fortitude Community Outreach comes into play.
"We as a Catholic Viatorian Community are charged with helping the poor and homeless, and the community of St. George has been doing just that for the past 150 years. I am so thankful to be part of this community. The giving and caring nature of our parish — and our willingness to help those in need — fits perfectly with the mission of the Viatorians, and our selfless devotion to others.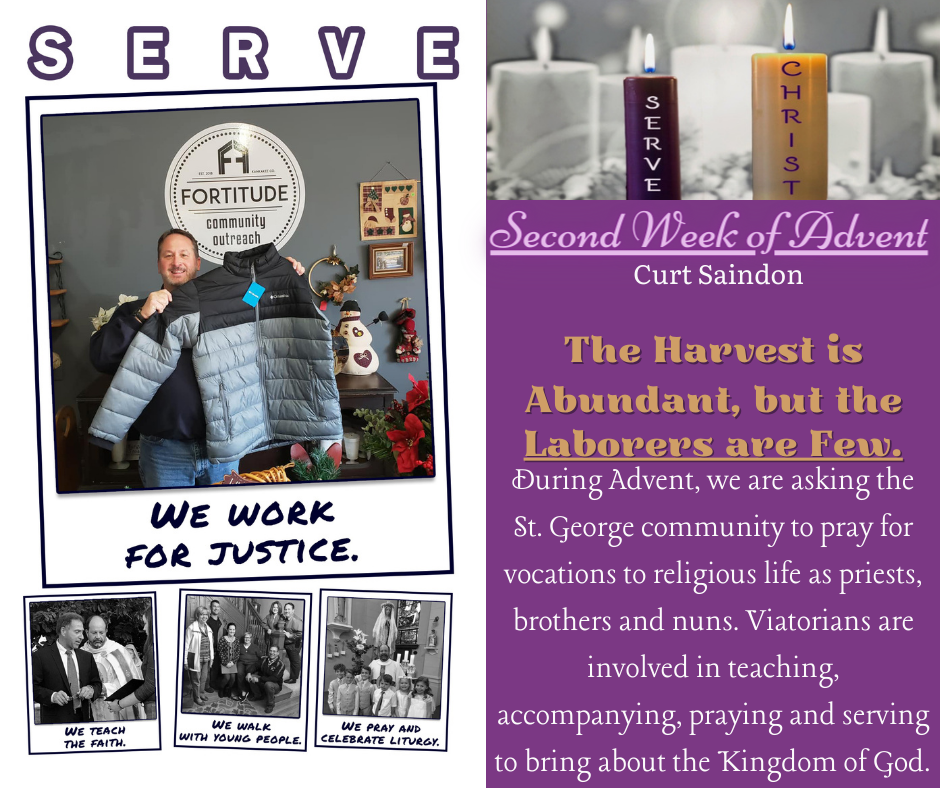 "However, Viatorians are in need of vocations, men who can say "yes" to serving Christ and to continue to be a presence to the homeless.
"What is Fortitude? The organization represents a community effort to meet the homeless where they are and help them however we can. I quickly learned they were all about helping those of little significance — feeding, clothing, sheltering and supporting the homeless of Kankakee County.
"This wonderful organization gives support, resources, and most importantly hope for the homeless in our area. Last year we had to move around from night to night, hosting our program in different locations, all while dealing with the impacts of the pandemic.
"I have a new appreciation for those who support the homeless, and a very different view of homeless individuals themselves. They are kind, caring, thoughtful, funny and very much like you and me…except they have no home! I know they have taught me a lot and helped me become a better person, more than I could ever have helped them, and I have grown immeasurably as a person through their example and their kindness.
"So, realizing the harvest is abundant, we need to consider how to be a laborer in following Christ as a Viatorian religious."