In a world of ever increasing, religious-based hatred, the
Children of Abraham Coalition, finds its message of tolerance and acceptance more important than ever.
For the eighth year, they hosted a potluck dinner for area families — as a way to promote interfaith understanding and peace, near the anniversary of Sept. 11.
"We can't stop all the religious-based hate in the world, but we can do our part," says Fr. Corey Brost, CSV. "We can be people of peace in our corner of the world, especially on Sept.11, a day that showed how deadly religious hate can be."
The event took place Sept. 22 in Querbes Hall at Saint Viator High School and drew more than 200 people.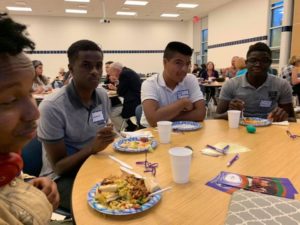 "God's presence filled this room tonight," Fr. Brost added,  "when Sikh, Jewish and Christian adults and youth gathered for our annual Interfaith Potluck For Peace."
During the evening, guests heard from teens who attended Peace Camp, sponsored by the coalition. They also honored activist Nora Flanagan with the Courage of Abraham Award, for her work in strengthening communities to fight white nationalism, as well as the interfaith core at Rochelle Zell Jewish High School for their work with their peers.
"We are all participants in affirming the power of love and understanding," said Rabbi Steve Hart, "over the voices of hatred and bigotry."
Fr. Corey formed the coalition 10 years after the 9/11 tragedies, as a platform to bring together suburban teens and adults of Christian, Muslim and Jewish faiths to learn about one another's shared Abrahamic traditions.
The Children of Abraham Coalition now includes adults and teens — of all faiths — on its board, but young people continue to drive its events.
"We're building a different world," Fr. Corey says simply. "Salaam, Shalom, Peace."