Nearly 15 years before Saint Viator High School merged with Sacred Heart of Mary High School, alumnae from its sister school were making a bit of history of their own.
Mary Fitzsimmons and Eileen O'Grady Daday, both graduates of the Class of 1973, were the first two Sacred Heart of Mary graduates to be accepted to the University of Notre Dame, in its second year of coeducation. Not knowing it at the time, they began what has become a steady stream of alumnae from across the network of Viatorian high schools to be admitted, and on Saturday, they were recognized as pioneers.
Both Fitzsimmons and Daday were among the 250 women — from the first five years of coeducation — to be identified by the university as having pioneered the way toward women's athletics. Fitzsimmons was on the first women's rowing team at the university, while Daday promoted the growth of women's sports as the first Women's Sports Editor for the daily newspaper, The Observer.
They were treated to a whole weekend of festivities. The highlight came Saturday morning, when the 170 women in attendance were individually introduced during an induction ceremony as honorary members of the Monogram Club. University President John I. Jenkins, CSC, addressed the group as did Notre Dame Athletic Director Jack Swarbrick.
"The women's athletics programs at Notre Dame have enjoyed remarkable success over the years, but none of that would have been possible without the commitment, dedication and passion of the women who blazed the trail 50 years ago," Fr. Jenkins said.
Notre Dame currently fields 26 varsity athletics programs, half of which are for women. Beginning in 1976 with tennis, its women's teams grew to add fencing, field hockey, basketball, volleyball, swimming and diving, cross country, golf, soccer, softball, indoor and outdoor track and field, lacrosse and rowing.
Irish women have won 14 national championships in fencing, soccer and basketball, as well as many individual national championships.
"Laying a strong foundation would be the measure of their success, and their efforts cannot be overstated," Swarbrick said. "Most importantly, they inspired others to follow their example, both in how to compete and how to build for the future."
Midway during the weekend, the women were recognized on the field before the Notre Dame vs. UNLV game. The entire recognition ceremony was timed with the 50th anniversary of Title IX and the 50th anniversary of admitting women to the university.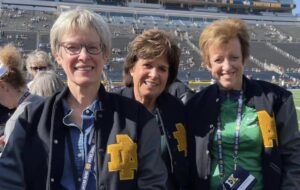 For Fitzsimmons and Daday, their leadership role in women's athletics served them well. Fitzsimmons is a physician in emergency medicine in Antioch, CA, while Daday spent 35 years as a sports reporter and then columnist with the Daily Herald. She now serves as communications director for the Viatorian Community.