Want to stay in touch with the Viatorian Community? There's an app for that.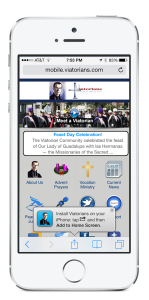 To access and install this new app to your mobile device, simply visit: https://www.viatorians.com on your favorite mobile device or directly at http://mobile.viatorians.com.
iPhone and iPad users can tap the share button and select "Add to Home Screen."
Android users can bookmark and press "Down and hold" on the bookmark to access the action menu and select "Add to Home Screen."
This new mobile app is available for iPhone, iPad, Android, Kindle, Samsung, Microsoft and more. The Viatorian app keeps you connected and helps you stay current wherever you go throughout the week.
The mobile app features:
* Viatorian interviews
* Current news
* Peace and justice articles
* Vocation information
* Audio podcasts
* Current and historic photos
* Daily Mass readings (written and audio)
* Social media updates
* Seasonal prayers
* Current and past videos
* The Viator newsletters
* Full web site integration