Vatican leaders made the announcement official today: Pope Francis recognized the second
miracle of five people, including most prominently Pope Paul VI and Blessed Oscar Romero, bishop and martyr. Now, all that awaits is their date of canonization.
They already had been on the path to sainthood — Pope Paul was beatified in 2014 and Romero in 2015 — and today the world celebrates their elevation.
Archbishop Romero was the archbishop of El Salvador's capital city of San Salvador. He was shot while celebrating Mass March 24, 1980, during the birth of a civil war between leftist guerrilla forces and the dictatorial government of the right.
The news of his canonization filled Fr. Daniel Lydon, CSV, with joy. He has a special devotion to Romero, who in part inspired his own call to the priesthood. Back in 2011, Fr. Lydon made a pilgrimage to El Salvador, visiting his home and the actual site where he had been shot.
Fr. Lydon points to this inspiring quote: "I will not abandon my people, but together with them I will run all the risks that my ministry demands."
"And he did," Fr. Lydon says. "He spoke the truth and spoke for the poor and powerless and was shot for it."
Bishop Chris Glancy, CSV, was one of 100 bishops serving in Latin America who attended Romero's beatification Mass in San Salvador in 2015.
"I remember that the people at the beatification cried out to the bishops and priests as we processed to the altar, 'We want priests like Romero.  We want bishops like Romero,' " he recalls. "Through the intercession of Blessed Oscar Romero, may our church stand with the poor, serve the poor and help the poor to have a voice."
Pope Paul VI served in the Vatican from 1963 to 1978, overseeing the much of the implementation of the Second Vatican Council, which had been opened by Pope St. John XXIII.
During the latter part of his papacy, Fr. Thomas Langenfeld, CSV, served as Superior General of the Viatorians and was based in Rome.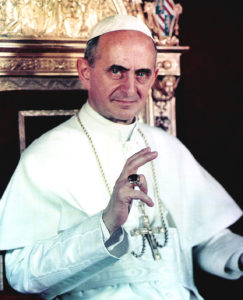 "He used to say that when he met Pope Paul VI, the pope always remembered the Clerics of St. Viator for going to Haiti in 1967," Bishop Glancy says, "when Papa Doc Duvalier, the dictator, expelled the Jesuits for speaking out on matters of justice.
"The Viatorians from Canada sent men to run the seminary," he adds. "That was the beginning of the Viatorian foundation in Haiti. Pope Paul VI greatly appreciated the generous response of the Viatorians when the Church was in need."