Viatorians have served on and off at St. George Parish in Bourbonnais since 1898, and most recently from 1954 to the present. That Viatorian commitment was evident last fall, when Fr. Daniel Belanger, CSV, Pastor, announced he was taking a sabbatical and another Viatorian stepped in to take his place: Fr. Patrick Render, CSV.
On Saturday, after the 5 p.m. Mass celebrating the Feast of the Epiphany, parishioners held a reception for the two Viatorians, thanking Fr. Pat and welcoming Fr. Dan back home.
"We would like to send a very heartfelt thank you to Fr. Pat, who tended St. George's flock while Father Dan was gone," parishioners said on St. George's Facebook page, "and of course, welcome home, Fr. Dan!!"
The transition was seamless, thanks to Fr. Render and his 60 years as a Viatorian. In the early years of his ministry, he led Saint Viator High School as principal and president, before spending 10 years in Provincial leadership. He then moved into parish ministry, serving as pastor of St. Joseph Church in Springfield for seven years, at St. Thomas More in Henderson, NV for 14 years and at St. Viator Parish in Chicago for six years, before moving to the Kankakee/Bourbonnais region to serve as director of association.
Viatorian associates stepped up to help lead the parish's internal operations, including Associate Curt Saindon, who serves on the Finance Committee; Associate Julie Lampley, who serves on the Parish Pastoral Council; and Associate Paula Wasser, who is a sacristan, lector and involved in many outreach projects.
Ironically, Fr. Dan, who has led the parish as pastor since 2014, referred to St. George as "home" in his homily during Mass.
"Thank you for coming to church on this night," he said at the opening, "and what a beautiful night it is. There is a crisp, coldness in the air, but more importantly, there is a warmth when we gather as community.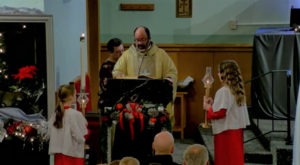 "So, think of this as home tonight," he added. "You're home."