Maternity of the Blessed Virgin Mary Church in Bourbonnais is the oldest church in Kankakee County — and one of the oldest churches in the Joliet Diocese — having been run by Viatorians for 150 years, since 1865.
Consequently, Maternity BVM is considered to be the cradle of the Viatorian Community in this country, and the Mother Church in the Kankakee area.
Yet, its beauty and vibrant worship services make it timeless.
Even residents of the surrounding Kankakee County, acknowledge this treasure. During Easter services, the editor of the online publication, "Everything Kankakee County," posted a photo from Easter morning Mass at Maternity BVM, describing it as Easter services at the oldest church in the area.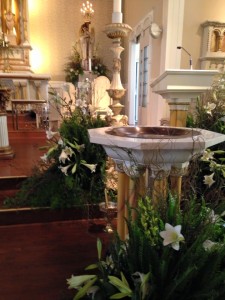 The popular Facebook page has more than 5,000 fans who like the community page, and they appreciate its mission of keeping Kankakee County history alive — and accessible.
Later this summer, Viatorians from around the country will gather at Maternity BVM to celebrate the Viatorians' historic arrival in the United States. Associates, brothers and priests will all worship on sacred ground: at the site where it all began.