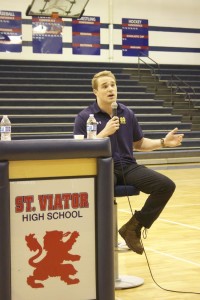 In a rare first time appearance as a motivational speaker, Notre Dame's celebrated linebacker, Joe Schmidt arrived last week at Saint Viator High School's Cahill Gymnasium to meet with students, coaches and faculty.
He was invited to address student athletes on the topics of goal setting, leadership and overcoming adversity, all of which he knows firsthand. But as it turned out, his appearance was providential, bringing his own family back full circle.
Schmidt's story is inspirational. He went from being a walk-on his first two years, to becoming a scholarship player, starting middle linebacker and defensive MVP last year. Members of the press have likened Schmidt's story to a modern-day Rudy, only with a better ending.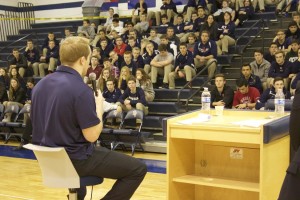 While Schmidt drew a standing ovation from students and kept their attention throughout the nearly hour-long appearance, it was his father, Joe Schmidt, who made the connection with the Viatorians.
Looking up at the name of the gym inscribed above the door, he couldn't help but comment.
"Did you see who this gym is named for," Joe Schmidt asked his wife, Debra, in disbelief. "It's Fr. Cahill. What a small world."
Turns out that Joe Schmidt, the father, played Division I football at the University of San Diego where during his senior year, 1979-1980, Fr. Pat Cahill had arrived to serve as athletic director.
"Those were the years when we didn't fly to games," Schmidt said. "No, we rode buses, and I always sat with (Fr. Cahill).
"He was a great guy," he added. "He was always so interesting. I loved sitting with him."
Fr. Cahill had served as the first athletic director at Saint Viator High School, starting in 1963 and helping to supervise the start of its football and cross country programs. He also was responsible for the sale of tickets and organizing of buses for away games, among his early administrative duties.
He eventually served as Saint Viator's second president, replacing Br. Leo Ryan, CSV, before leaving for the University of San Diego, where he served from 1979-1988. Fr. Cahill would spend the next eight years in Las Vegas, at Bishop Gorman High School and at Guardian Angel Cathedral. He passed away in 2002.
Going into the high school appearance, young Joe Schmidt had not heard of the Viatorians, but no doubt he heard all about one of its most beloved members, whose legacy of serving as a friend and mentor to young people, still is remembered.