Three years after parishioners at St. George Church — located near Kankakee, IL — formed their own garden club to beautify the grounds, they earned a spot on the area's annual garden walk.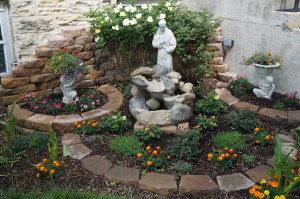 "We invite you to take a long spiritual stroll around the grounds," members said to their guests. "Around every corner a surprise awaits you — maybe it's a saint's statue, angels or one of the many fountains on the property."
Fr. Daniel Belanger, CSV, pastor, puts it this way: "The beautiful grounds of St. George are a place where people can see God through his creation."
The extensive gardens — each tended by different club members — are broken up into islands of color. Many of them include roses, but they also include varieties of perennials, tall grasses, lilies, hostas, ferns and annuals.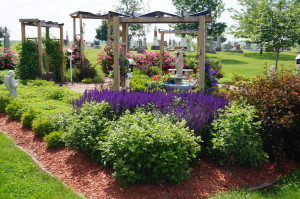 A highlight is the Rosary Garden, with its different islands of color dedicated to a different mystery. The joyful mysteries are coded in red, with the luminous in gold, the sorrowful in purple and the glorious in white.
"The garden started as a dream," Fr. Dan says, "but through dedication and prayer it became a reality."