One of the main priorities of the Viatorian Community is to feed the hungry. That commitment came to light last week when students from two schools — Saint Viator High School and Cristo Rey St. Martin College Prep — combined to work together at a pop-up food bank.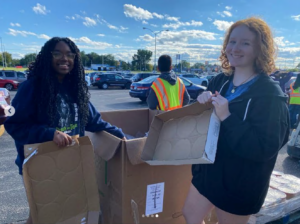 The site was the parking lot at Cristo Rey St. Martin and the food was made possible by the Northern Illinois Food Bank. Each year, CRSM tries to host six distribution events to meet the growing need for food in the greater Waukegan area. At one of their distributions held last year — which drew young men from Viator House of Hospitality and SVHS students to serve — they drew more than 900 families.
Last week's food bank drew a crowd so big that volunteers ran out of food. But seeing the demand was a teaching moment for SVHS students who had volunteered to help. They were accompanied by Br. Jhobany Orduz, CSV, a native of Colombia. He is doing his practicum in Campus Ministry while studying for the priesthood. However, this service outing left as big an impact on him as it did on his students. Here's how he described it: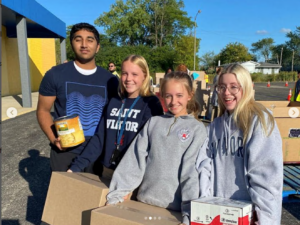 "People are in need are everywhere, and this activity allowed me to see a different face of the American reality. I felt kind of frustrated because there was not enough food to help every family there. Some cars had to leave because there was no food available to satisfy all of them. However, that experience was a discussion topic while I drove students back to Saint Viator.
"I felt sad to see all those cars waiting for food. There is so much injustice in our world, and several times we put food in the garbage without thinking that there are hungry people outside. Of course, we cannot solve all problems of society, but creating conscience is something that, as Viatorians, we continue to work on. I remember one common expression of Fr Rafael García Herreros, CJM, who said, 'There is more happiness in giving than in receiving.'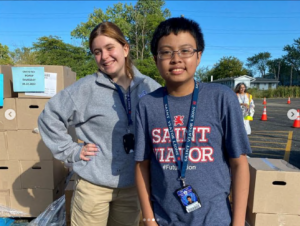 "Serving people in need, most of them Spanish speakers, was one of these experiences."