After two years of advising the Little Sisters of the Poor as their spiritual director, Fr. George Auger, CSV, has accepted their offer to become a full time, resident chaplain at their senior living community in Northwest suburban Chicago.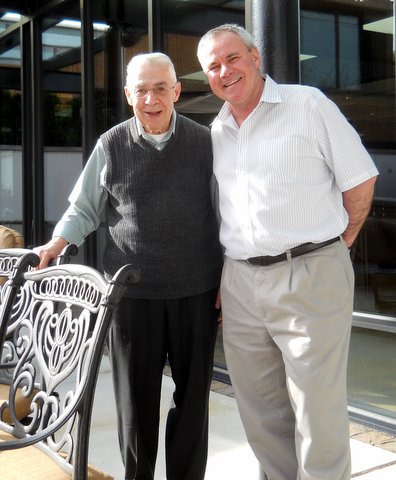 He began his new role in April and besides offering daily Mass, Fr. Auger serves as spiritual director to the Little Sisters and their residents, especially to those in their skilled nursing facility. He anoints the sick and is there to accompany them in their last hours of life.
Viatorians gave Fr. Auger a formal sendoff recently, with a dinner party and bittersweet celebration, where they acknowledged his new position was the Little Sisters' gain and their loss.
Fr. Auger's decision to accept the position, however, came as no surprise to his confreres, who have looked up to him over the recent years as the director of the Viatorians' retirement wing.
"All of us that know him, think of him as a spiritual mentor and know of his compassion for those who are ill," says Fr. Thomas von Behren, CSV, provincial. "For years, he has taken it upon himself to visit our men who are in nursing homes — just because of who he is."
Fr. Auger replaces Bishop Andrew J. McDonald, the bishop emeritus from the Little Rock Diocese in Arkansas, who had been serving as chaplain to the Little Sisters in his retirement.