More than one dozen Viatorians — including professed and associates — in the Bourbonnais/Kankakee region worked together on a powerful faith experience: filming the Stations of the Cross.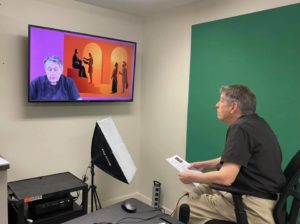 In their recording, they describe the 14 stations on Jesus' torturous journey to Calvary, but their reflections come from the heart and put viewers in solidarity with all those who suffer.
"Let us pray that we will be open to whatever Jesus wants us to see, hear and understand," says Associate Mary Finks at the outset.
Watch for these Viatorians: Associates Ken and Michelle Barrie, Susan Bourgeois, Julie Lampley, John Ohlendorf, Kathleen and Curt Saindon, David and Susan Surprenant and Paula Wasser, Pre-Associate Amy McCrary, as well as Fr. Dan Lydon, Fr. Jason Nesbit and Fr. John Peeters.