Every morning, before the 8:15 a.m. Mass, Katie Walsh would walk across the street to St. Viator Parish in Chicago to lay out things needed for the liturgy.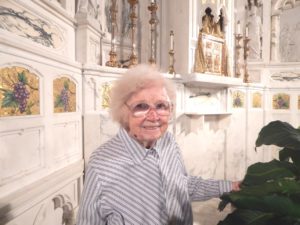 From altar linens and vestments, to the chalices, candles and cruets; she prepared all of them and made sure all the celebrant needed to think about was saying Mass.
"She was part of the fabric of the parish," says Fr. Charles Bolser, CSV, former pastor. "She was a legend."
Mrs. Walsh, or "Katie," as everyone around church called her, passed away on Sunday. She was 95.
Sadly, her only surviving son, Michael, passed away a few hours later on that same day from complications following heart surgery.
Parish members say Katie served as the church sacristan for nearly 50 years, having begun her ministry when was 43.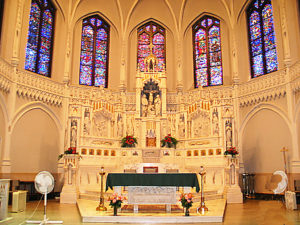 "Katie told me that back in the day, she and other volunteers would wash down the altars, scrub floors, wash priests' albs and altar linens, remove wax off of candle holders, polish vessels — and all accomplished behind the scenes," says Tony DiSalvio, a member of St. Viator's church, art and environment committee.
Until recently, Katie would wash, iron and fold all the purification linen used to wipe the chalices, every week, or more than 1,300 pieces per year — in addition to caring for the corporals and altar cloths.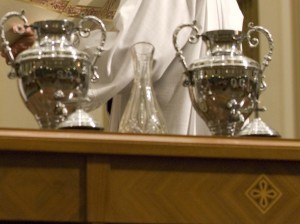 "Her years of service and dedication to St. Viator have not gone unnoticed," DiSalvio adds. "Katie took great pride in maintaining her church and cared deeply about the way it appeared."
In doing so, she carried out one of the core missions of the Viatorians, put forth by the community's 19th century founder, Fr. Louis Querbes: of being devoted to the service of the holy altar.
Viatorians will be on hand for her services — and for her son's — on Friday, which being with a 9:30 a.m. visitation and 11 a.m. funeral Mass, all at St. Viator Church, located at 4170 W. Addison St. in Chicago.