Let the celebrations begin!
St. Viator Parish in Chicago launched its milestone year on New Year's Eve, and more events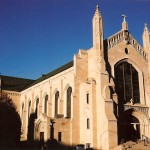 are planned throughout the year. Church officials are celebrating their 125th anniversary as a parish and 110th anniversary as a Catholic school.
"Life is exciting here these days," says Fr. Charles Bolser, CSV, pastor.
The Viatorians founded St. Viator Church in 1888 outside the city limits of Chicago in the Irving Park neighborhood. The parish moved to its present location on Addison Street, a little more than four miles west of Wrigley Field, in the early 1900's. The cornerstone of the present church was laid in 1927.
Fr. Thomas McCormick, CSV, the parish's second pastor, started St. Viator School in 1902. His vision continues to drive the school today, that setting high standards for education is an utmost priority.
School officials will culminate their celebration on March 2, with a fundraising dinner aimed at supporting their expanded technology and infrastructure improvements.
"We're proud to be celebrating our 110th year of academia," says Kathleen Kowalski, principal, "and of continuing our  mission of providing a quality, faith-based education for generations to come."