In a solemn ritual, handed down by the ancient church, the dedication of St. Viator Parish in Bogotá took place — on the feast of Our Lady of Guadalupe.
Msr. German Medina Acosta, Auxiliary Bishop of Bogotá, led the blessing and concelebrated the Mass with Fr. Edgar Suarez, CSV, Pastor. The Mass drew nearly one dozen priests and deacons, including many Viatorians, to gather around the altar.
Before the start of Mass, Bishop Acosta consecrated the altar and its relics before blessing the the rest of the sanctuary and other parts of the church, as prescribed by the sacred rite.
The celebration concluded with a special ceremony honoring Our Lady of Guadalupe, including songs of praise by a mariachi band.
The dedication was a dream come true for Fr. Suarez and his congregation of more than 1,000 families. Its construction began in September, 2020, after years of fundraising and waiting for building permits. Fr. Suarez and the parish community celebrated in their new church for the first time on Easter, despite it not being fully finished and again on July 16, the feast of Our Lady of Mt. Carmel, which was their deadline to complete most of the work.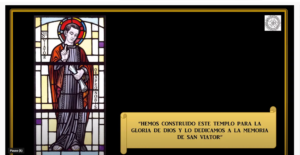 The dedication taking place on the Feast of Our Lady of Guadalupe was no coincidence. It provided the chance to celebrate their new church on one of the many feast days of Mary, the patroness of Colombia.