Nearly 60 years after Viatorians established a foundation in Colombia, they have built their first church named for the community's patron, St. Viator.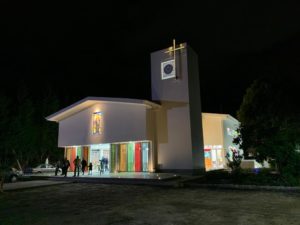 Construction on St. Viator Parish in Bogotá began last year, after years of fundraising and waiting for building permits. Led by Fr. Edgar Suarez, CSV, Pastor, the parish community celebrated in their new church for the first time on Easter, despite it not being finished and they set July 16, the feast of Our Lady of Mt. Carmel, as their deadline to complete most of the work.
Consequently, on Friday, they celebrated with great joy one of the many feast days of Mary, the patroness of Colombia. The special liturgy drew a full church of parishioners who marveled at the church's many windows and religious images — including a prominent stained glass window featuring St. Viator — as well as its gardens and outdoor lighting.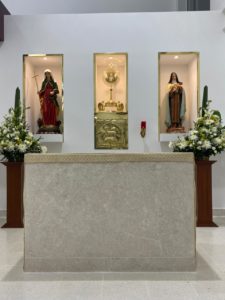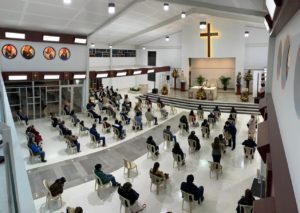 "It has been one year since the blessing of the first stone, and now we have started the celebrations in our new parish church," Fr. Suarez said. "We have advanced a lot of the work, but there are still many details to be completed, including the sound system, stained glass windows, pews, parking and chapel of the Rosary of the Virgin."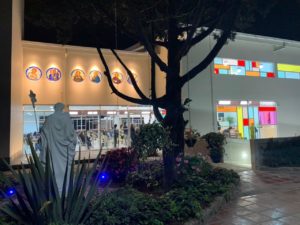 It was Pope Pius VII who declared Our Lady of the Rosary of Chiquinquirá as the patroness of Colombia, in 1829. Colombians have had a special devotion to the Blessed Mother ever since and pray for her intercession on special feast days, including Our Lady of Mount Carmel.
Fr. Suarez summed up the celebration this way: "With the grace of God and the work of the parish community we will continue to move forward to bring to a successful conclusion the entire project for the glory of our Lord Jesus Christ and the service of the foundation of Colombia of the Clerics of St. Viator."