Students at St. Viator Elementary School in Chicago specialize in artistic expression. Consider their annual art and academic fair coming up this weekend. Art Zone is celebrating its 21st year and it always surprises visitors with its array of art work and depth of expression.
That may explain why students' art work caught the attention of Marines serving overseas.
It started as an activity during Catholic Schools' Week, but it ended up as a heartwarming connection between active military troops and St. Viator  schoolchildren.
Second graders wrote thank you notes to Marines serving overseas. They specifically wrote to Gunnery Sgt. Eddie Delgado and his platoon to thank them for their sacrifice and service in protecting our nation. He is a cousin of second grader, Xavier.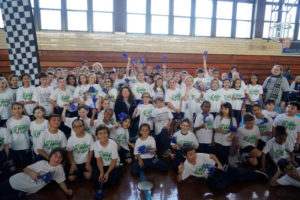 The project fit in well with this year's theme during Catholic Schools' Week: Learn. Serve. Lead. Succeed.
While students enjoyed decorating and creating their cards, they never expected the kind of response they received this month, directly from the platoon.
"Your cards motivate us," Gunnery Sgt. Delgado said in a video, "and remind us why we do what we do."