Today, Viatorians around the world pause to reflect on their feast day, remembering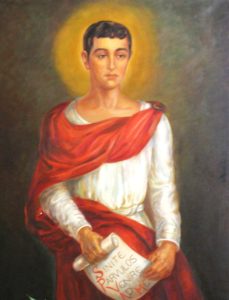 the 4th century saint whom Fr. Louis Querbes chose to be the patron of his new religious order.
For all Viatorians — including brothers, priests and associates — their day started with an email message from Fr. Robert M. Egan, CSV, Superior General, who suggested the feast day was a good time to renew and deepen the vision of Fr. Querbes.
"I am grateful for all that you do to accomplish the mission of the Viatorian Community in the church and in our world," Fr. Egan wrote. "Your witness to the Gospel brings life and energy to the founding vision of Father Querbes."
Celebrations took many forms. At Saint Viator High School, students attended the St. Viator Day Mass — their first all-school Mass this year — by watching it livestreamed, in order to restrict the numbers of people gathered. Consequently, students watched in their classrooms, while Bishop Christopher Glancy, CSV, celebrated the Mass in the school's chapel.
"We Viatorians are pilgrims on a sacred journey through life," he said, "to encounter Jesus and share the good news of the love of God in Christ."
Students at the newest Viatorian school, Cristo Rey St. Viator in North Las Vegas, celebrated Mass outdoors on their new soccer field, while even students as young as preschoolers at nearby St. Viator Parish School interpreted the patron saint of their church through drawings.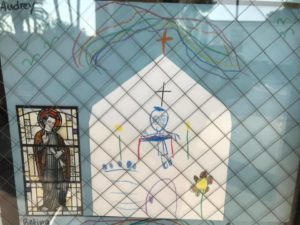 Students at Colegion San Viator in Bogotá are learning virtually. Consequently, they watched a video that laced together interviews with different students, teachers and Viatorians, including Fr. Dan Lydon, CSV, who is bilingual.
"What I enjoy most about being a Viatorian is that it is a group of happy people," Fr. Lydon said. "We have priests and brothers and associates, and we have a good sense of community. But we're also very hard working, very dedicated to Christ and Christ's church."
Viatorians in the Arlington Heights/Chicago region celebrated the feast on Sunday by welcoming commitments by associates. On that same day, Viatorians in the Ivory Coast in Africa, celebrated the diaconate ordination of Br. Gnaimen Anatole as he advances toward the priesthood and the perpetual vows of three more religious brothers, Aba de Toussaint, Bandama Ghislain and Daté Norbert.
Finally, many professed Viatorians gathered this day at St. Anne's Church, in St. Anne, IL, where they bid farewell to Fr. James Fanale, CSV. He celebrated 50 years of priesthood last year and this year was in his 59th year as a Viatorian. Fr. Jim advanced the Viatorian mission from high school classrooms to universities and ultimately to this rural community, where he drew great joy.