Over its more than 60-year history, St. Viator Catholic Community in Las Vegas has renovated its church several times, even re-building it within the first year after the original structure collapsed.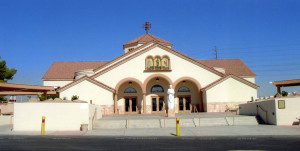 The latest effort comes under the leadership of Fr. Richard Rinn, CSV, pastor and Fr. Lawrence Lentz, CSV, associate pastor, who are undertaking a complete renovation of the church's interior.
Projects include applying shades of taupe paint throughout, as well as new stacked stone and iridescent tile work behind the crucifix, and new pews, kneelers, carpeting, organ speakers and sound panels to enhance its acoustics.
One prominent visual being added is an image of the parish's patron saint: St. Viator on the back wall.
"We have a statue of him outside in the plaza," Fr. Lentz says, "but nothing inside the church, except for a portrait. Given that he's the patron saint of the church, we thought this would be an interesting way to approach it."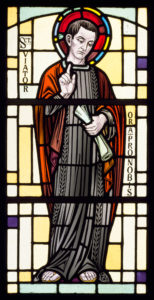 Working with Associate Joan Sweeney, Viatorian archivist, they acquired a traditional image of the 4th century saint — taken from a stained glass window on display at the Viatorian Province Center — with the intention of stretching it over canvas and hanging it on the back wall.
That way, Fr. Lentz reasoned, St. Viator would be the last thing worshippers see it on their way out of church, underlying the message that the parish is run by Viatorians.
As a result of the renovation, Masses are being held in the school gym, which is air conditioned. However, as a result of limited facilities, Fr. Rinn has promised that Masses will be simpler, more in the style of daily Mass held in their chapel.
One week in, and the response has been positive. Parishioners are enjoying the simpler and shorter Masses, and they are coming forward to help shoulder the load of funding the renovation.
"We've broken it down into individual opportunities for participating," Fr. Lentz says. "So far, it's been going well. People like to know what their donation will purchase."