At St. Thomas More Catholic Community in Henderson, Nevada, the line stretched out the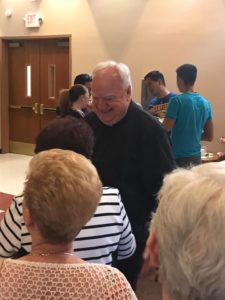 door of the parish center, with families wishing to thank their pastor for his time with them.
Fr. Mick Egan, CSV, offered his last Mass on Sunday at the parish of more than 6,000 families. He leaves this week for the Viatorian Province Center, where he will assume the duties of Provincial Superior of the Viatorian Community in this country and in Colombia.
He served at St. Thomas More for four years, including the last two as pastor, and his leadership and ministry touched families deeply.
"Within the Spirit of Father Querbes, the founder of the Viatorian Community, and in the spirit of the Second Vatican Council, Fr. Mick has truly offered our community his many gifts and talents, guiding us to be a people of God," they wrote on the parish's Facebook page. "As he moves on to the next chapter as Provincial of the Viatorians, we keep him in prayer and give thanks to God for his time here with us."
Fr. Mick bid an emotional farewell to parishioners in his weekly column in the Sunday bulletin.
"I don't really have the right words to express my deep gratitude and thanks to all of you for your support, collaboration and prayers over these past four years," he wrote. "I am disappointed that my time at St. Thomas More has been only four years, but in that time you have blessed and graced my life and I will forever be grateful to you."