For more than 20 years, Associates Ken and Michelle Barrie have worked in youth ministry at St. Patrick Church in Kankakee. Their Hearts of Hope Youth Ministry program now involves teens from surrounding parishes as well, and increasingly draws junior high students to participate.
Just last week, more than 40 young people attended the group's Junior High Service Camp. Together with their high school mentors, these students worked all around the parish grounds, before heading to the neighboring Lisieux Pastoral Center and Bishop McNamara Catholic School in Bradley. They spent the last two days of the week in rural Pembroke Township.
"What a great week," Michelle said simply.
On the first day alone, they spread mulch across the playground, completed trash patrol around the entire campus, and used their elbow grease to clean pews in the church.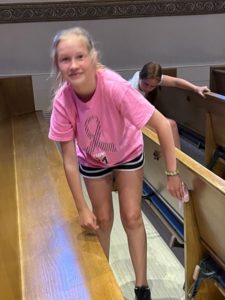 "They used Murphy's Oil Soap to clean, shine and put moisture back into the pews," Michelle says. "This was sorely needed after the constant sanitizing required by the Joliet Diocesan COVID protocols."
Over the course of the week, these young people did landscaping, cleaned coolers and refrigerators, moved school classroom materials, played games, had small group discussions, performed in a talent show and got to ride a horse and catch chickens.
This kind experience — which merges hands-on service with faith formation — paves the way for junior high students to become more involved in social justice while in high school, and hopefully beyond.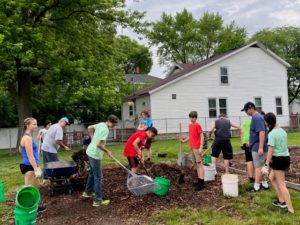 Ken and Michelle have been associates since 2006. As Viatorians, they are committed to the community's core values, which includes fostering the faith development of young people and their active membership in their communities.