Fr. Donald Wehnert, CSV, celebrated 70 years of religious life last year, and of those years, all but five have been spent in parish ministry. The last 25 years have been at St. Patrick Church in Kankakee, where he has accompanied families through all of the joys and sorrows of life.
Parishioners thanked Fr. Don, as they call him, by throwing an open house celebrating his 90th birthday. They created a photo board with snapshots of his long ministry, designed a cake with the Viatorian crest on it, set out a buffet of food and invited the whole parish to attend.
"He is very well liked," says Fr. John Peeters, CSV, Pastor for the last 15 years. "He's been here so long that he remembers names and family members and little anecdotes about them."
Fr. Don is retired now but he still says Mass every week at the parish and he also says Mass at a local nursing home. Before the pandemic, he said Mass regularly at local hospitals, but now he continues to reach out to families in times of sorrow by attending many wakes.
But the birthday bash was anything but sorrowful. Joy was in the air as Fr. Don caught up with so many parish families, as well as his own family members who came in from Springfield to attend, including his nephew, Tom Cervellone and his wife, Chris, and nieces Judy Cervellone and Jeanne Fliege.
Members of his Viatorian family were also on hand, including Br. John Eustice, Fr. Moses Mesh and Fr. Jason Nesbit, as well as Associates Ken and Michelle Barrie, Mary Finks, David and Susan Surprenant, and Paula Wasser.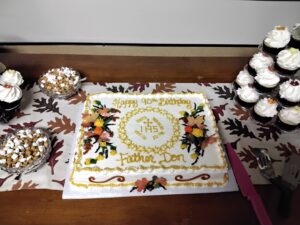 Instead of presents, Fr. Don requested donations to the St. Patrick Parish Scholarship Fund, intended to help students afford Catholic education.
"I was overwhelmed by the number of people," Fr. Don said, "and their generosity to our scholarship fund."