St. George Parish held its 75th annual Summerfest on Sunday, and by all accounts it was a great success.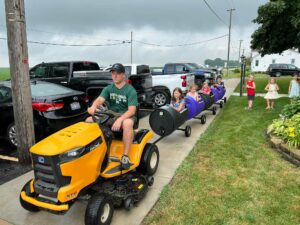 For starters, the parish picnic stuck with tradition in offering good, old fashioned summertime fun. Children enjoyed going down the inflatable slides and riding in the tractor-pulled barrel train, while adults enjoyed live music, perusing the unique items offered in the "country store," and relaxing amid the parish's expansive gardens.
But the real success was measured at the grill, after families devoured more than 1,300 pieces of barbequed chicken.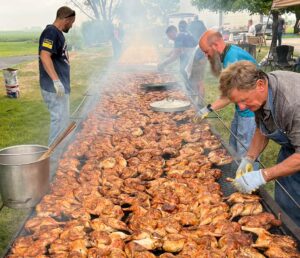 "I'm always impressed to see the way that the St. George community comes together to make this annual event such a special celebration in the cornfields," says Fr. Daniel Belanger, CSV, Pastor.
The day started when members of the Bishop McNamara High School football team turned out to set up for the event. Many parishioners worked in assembly line fashion to fill picnic suppers that would go along with the barbequed chicken, while others sold tickets and raffle tickets throughout the day.
This milestone edition of Summerfest came during the parish's yearlong celebration of its 150th anniversary. The current church was built in 1872, of stone found in nearby quarries. The first Viatorian to lead the parish was Fr. Auguste J. Tardif, CSV, beginning in the early 1900s, and Viatorians have led the rural parish nearly ever since.
"In 2022, we celebrate the 150th anniversary of the present church," Fr. Belanger adds. "We look to our ancestors in gratitude for their perseverance to ensure the parish of St. George flourished and endured. We are willing to meet the challenges ahead to provide the same faith opportunities for future generations."