Parishioners at St. George Church in Bourbonnais are in the midst of a yearlong, 150th anniversary celebration. Fr. Daniel Belanger, CSV, pastor, dedicated the year to 150 years of family and faith, and that theme played out Saturday, when an Eagle Scout candidate completed his project on the church grounds.
Alexander DeCarlo, a senior at Bradley Bourbonnais High School and parish member, laid the brickwork for a pedestal to mount a cross that once stood atop of the current church. The cross was dedicated in 1962, when the parish was rebuilt after a devastating fire. The new church retained its original walls from the 1872 structure, however, the cross was eventually taken down, due to its weight, and replaced with the current steeple.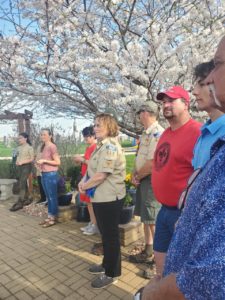 Yet, in this milestone anniversary year, as St. George parishioners reflect on the abiding faith of former generations, who weathered two tornadoes and a fire that threatened their church, they are more resolved than ever to preserve the past and publicly affirm their faith.
The cross and its pedastal are located on a plaza in the rosary garden, that was established in 2019, during the parish's year of devotion to Mary. A portion of the inscription on the plaque reads:
                Lift High the Cross
In honor of celebrating 150 years, we are rededicating this cross to the people of St. George, to be a sign of the faith, determination and vision of our ancestors — and is a beacon for future generations.
"Thank you for your hard work and dedication," Fr. Dan said, "on this truly wonderful and meaningful project, Alexander."