Forget the formal banquets!
At the largest parish where Viatorians serve — St. Thomas More Catholic Community in Henderson, NV — thanking volunteers means throwing a joyous, holiday festival.
Earlier this month, Viatorian associates and staff members joined together to do just that, host a volunteer appreciation event for the vibrant parish community of more than 6,000 families.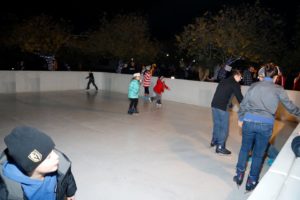 The evening bash featured ice skating, train rides, carnival games, karaoke, food and drinks, cookie decorating, a photo booth, cake walk, ornament making and even Santa arriving on a fire truck.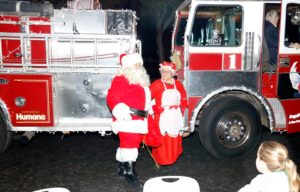 "We really enjoy planning it, because we love and appreciate our volunteers so much," says staff member Amanda Dwyer. "It takes a lot of time and hard work, but we all feel it's worth it when we see our volunteers and their families enjoying the evening."
Amanda and her husband, Steve Dwyer, run the parish's Life Teen program. Together they worked with Viatorian Associates Juliann Dwyer, Lisa Fairweather and Ken Rosania, as well as Pam Trendell, marriage and baptism coordinator, to organize and pull off the event. Fr. Michael Keliher, CSV, serves as administrator of the parish and Bishop Christopher Glancy, CSV, is helping over the holiday season.
Together, they estimate that more than 800 parishioners attended.
It all comes under the heading of one of the core principles of the Viatorian mission, which is to build up communities where faith is lived, deepened and celebrated.