Every fall, the abundant trees on the grounds of the Viatorian Province Center provide a glorious show of color. It's a glimpse of God's creation that Viatorians look forward to year after year.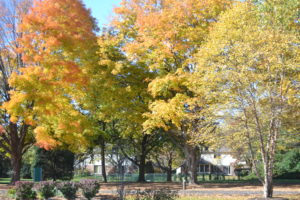 Take Fr. John Van Wiel, CSV, who is retired after his long teaching career and now spends his free time painting water color landscapes. On a recent Saturday, he walked around the campus, snapping photos of some of his favorite trees.
"I love to walk outside," Fr. Van Wiel says, "and see God in nature on a daily basis."
The Province Center is set on nearly seven acres of land and serves as the headquarters of the Chicago Province, but unofficially it is something of a nature sanctuary.
With its rolling land set back off of busy Euclid Avenue — dotted with close to 100 trees and mature garden beds of perennials and annuals — it offers a sense of peace and serenity to all who visit.
Steve Burks, director of buildings and grounds, oversees the care of the trees. Earlier this fall, he supervised the planting of 16 new trees across the lush grounds, including three autumn blaze maples, a scarlet oak, five common bald cypress trees, four prairie fire crabapple and three heritage river birch trees. They replaced four trees and several evergreens that did not survive the winter.
He also had more ground cover and perennials installed along the main drive and around the circle in front of the building.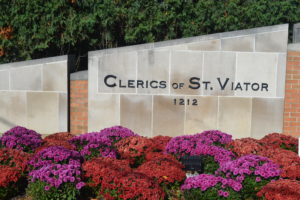 "What I look for is color," says Burks, who has supervised the Province Center grounds for more than a dozen years, and the Saint Viator High School campus for more than 35 years.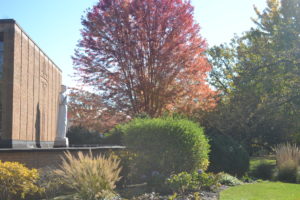 The lush grounds reflect the rich farmland and orchards that Viatorians purchased more than 60 years ago and converted it into the Province Center, and its namesake high school on the northern edge of the property.
As a religious community, Viatorians are committed to caring for our common home, and the nature sanctuary that comes alive before their eyes reminds them daily of the magnificence of God's creation.