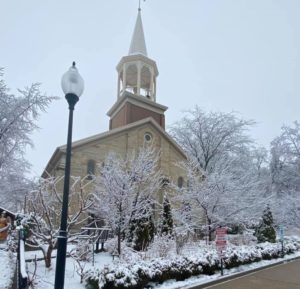 On a recent Sunday, Fr. Jason Nesbit, CSV, Pastor of Maternity BVM Parish in Bourbonnais, walked outside the church in between Masses and came across a beautiful image: the church campus sparkling in freshly fallen snow.
"I just opened the door and with the ice and snow, everything just stood out," Fr. Jason says.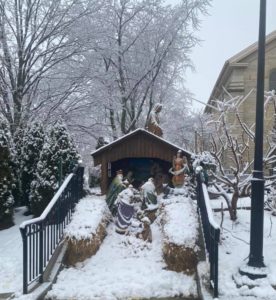 With that, he impulsively took out his phone and started snapping photos in order to share them with parishioners. Favorite subjects include the historic church itself, the statue of Mary in the front plaza and the 100-year old grotto in the back.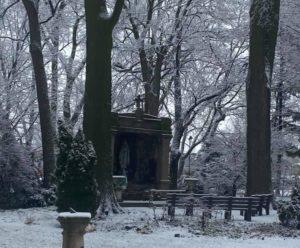 This year, he added another favorite to his list: the large creche set up on the steps of the plaza near the front entrance to the church.
"Because the nativity scene is set up on steps, I was able to get the church peering over the background," Fr. Jason adds. "I think it's a nice shot."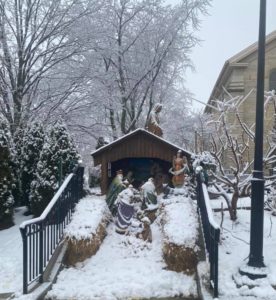 He quickly adds that he is a not a photographer, but he has taken to capturing images around the church amid the changing seasons. When they are shared over social media, he hears from parishioners who have moved away or from those confined to their homes that they enjoy seeing photos of their parish.
"It's comforting for people to connect with their church," he says. "It matters."
But Fr. Jason hopes to inspire current parishioners as well, who see these statues almost daily.
"The church in different seasons is so special," he says. "It gives us these beautiful outdoor places to walk and pray."