Fr. John Milton, CSV, will do anything to help Cristo Rey St. Martin College Prep in suburban Waukegan, even if it means dusting off his paint brush.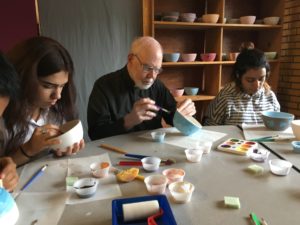 A physicist by profession, Fr. Milton joined students last month to customize a ceramic bowl — in blue, embellished with a physics equation, naturally — for the Empty Bowls fundraiser on Nov. 17 and 18.
The Empty Bowls Project is now in its 27th year of raising money at the grassroots level to fight hunger, worldwide. In the case of the event at CRSM, its proceeds will be contributed to the Holy Family Food Pantry in Waukegan.
Theology teacher Jacob Larson suggested the fundraiser last year, in his role as Art Club moderator. Guests will not only have the chance to enjoy soup in their one-of-a-kind bowl, but they will get to take in a theater production of "Humbug," which features CRSM students in a modern, re-telling of Dicken's "A Christmas Carol."
For Fr. Milton, taking part in the project  not only fulfills his hidden artistic talent, but it helps him carry out one of the core priorities of the Viatorian Community, which is fighting hunger.
This year, he celebrates 65 years as Viatorian and 60 years as a priest. All but five years of his ministry have been spent teaching physics, including 20 years at Saint Viator High School and another 24 years as a professor at De Paul University in Chicago.
Since his retirement in 2011, Fr. Milton has served as a science consultant to faculty members at Cristo Rey St. Martin College Prep, where he helped obtain lab equipment through his network of physics colleagues and helped to start the school's first AP physics course.
Join with Fr. Milton and the rest of the CRSM community in kicking off the Holiday Season in a meaningful way. Tickets are $10 for adults (which includes a bowl hand-painted by CRSM students, food, and a ticket to the show) and $5 for children (includes food and ticket to the show).