They designed T-shirts and message boards together, but at the heart of the recent Bridges Retreat was a much deeper exploration of  such issues as racism, discrimination, prejudice and stereotyping — and the Christian response.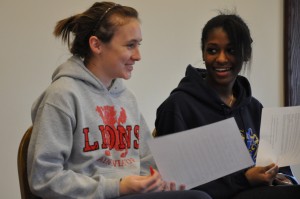 Saint Viator High School students came together with their counterparts from Cristo Rey St. Martin College Prep in Waukegan for the retreat, held at the Bellarmine Jesuit Retreat Center in Barrington.
"Prejudice is not something we're going to change overnight," said Br. Michael Gosch, CSV, who works as a social worker at St. Martin's. "It's an ongoing process and something we constantly need to check ourselves on."
The two-day retreat aimed to give students plenty of time to establish relationships — and build on them, through future prayer and service opportunities.
(Photo by Jim Dippold)
Fr. Corey Brost, CSV, vice president of mission effectiveness at Saint Viator, designed the Bridges Retreat nine years ago while serving at a diverse parish in Springfield.
"At the time, it seemed like it would help us explore issues we saw in the neighborhood, like racial tension," Fr. Brost said.
Jim Dippold, campus ministry director at St. Martin's says he came away from the retreat "inspired" after seeing how young people from different communities came together and talked about important issues.
"The students from both schools are committed to justice," Dippold said, "and are harbingers of hope in a world that needs their faith and their leadership."