In a rare turn of events, the Saint Viator High School pep band tossed aside their Lions' spirit wear in favor of Pirates' T-shirts. They even scrambled to learn some new songs: the Seton Hall University alma mater and its fight song, Onward Setonia.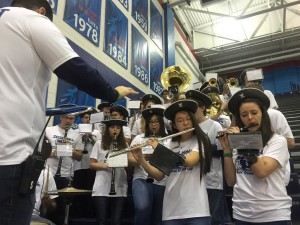 Thanks to a connection made between Band Director Vince Genualdi and a member of the Big East Conference, Saint Viator's pep band was asked to sit in and play for the Pirates during an early round of the Big East Women's Basketball Conference tournament. The action opened Saturday at the McGrath-Phillips Arena, on the campus of DePaul University in Chicago.
"The game was televised on Fox Sports," Mr. Genualdi said. "It was a great opportunity for our band."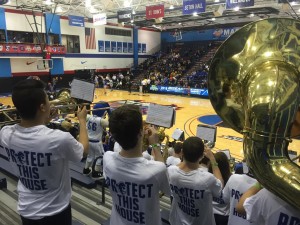 Seeded No. 3 going into tournament play, Seton Hall faced conference rival, No. 6 Marquette University. The two teams had split their two prior match-ups during the season, each winning on their home court.
But aided by their enthusiastic pep band, the Pirates (23-7) broke open a tight game in the second half and turned back several surges by the Marquette Warriors (14-16) to advance to Monday's semifinals against Creighton. Saint Viator's band was not able to return, so the Pirates secured the University of Chicago pep band to take their place.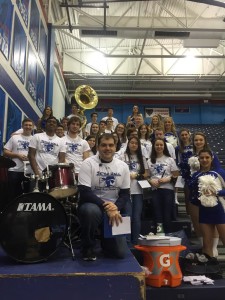 Ms. Maggie Miskowicz, instructional technology coordinator and an assistant girls' basketball coach, accompanied the band members as a chaperone.
"The kids had a so much fun playing," Ms. Miskowicz said. "It was an excellent experience for them to participate in a college conference tournament — and to see an actual college band, since Marquette brought their pep band. It was just a great opportunity to promote our band."
One of those who was impressed, was Karen Loiacono, associate athletics director for marketing and licensing at DePaul, and a 1976 Sacred Heart of Mary High School alumna, whose nephew, Stephen Cienawa, attends Saint Viator.
With her office located in the Sullivan Athletics Center, near the McGrath-Phillips Arena, Loiacono came out to hear the band and congratulate its members on their first college performance.