Students at Saint Viator High School returned from spring break to find a new coffee bar and gathering space in an area they once referred to as the fishbowl. Set in the middle of the school, the wellness bar offers a variety of coffees, smoothies, snacks as well as other breakfast and lunch items.
It's name? Burks Place, in memory of the school's longtime Building and Grounds Director, Steve Burks, who passed away in 2022. It will be formally dedicated on April 23.
Fr. Daniel Lydon, CSV, President, and his administrators started brainstorming for ways to honor Burks' many years of work at the school. This much they knew: any memorial had to be student-focused.
"With any project we undertook, Steve always asked, 'Will it benefit the kids,' "Fr. Lydon said. "Students were always at the center of everything he did."
In fact, over his four decades of service, Burks oversaw many capital improvements to the school, including transitioning the building to a coeducational institution in 1987, as well as the building addition and improvements in 2005 and 2014.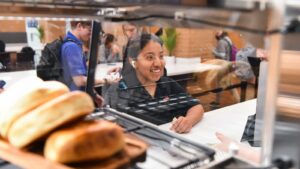 Burks also managed the buildings and grounds at the Province Center for nearly 15 years, lovingly taking care of its expansive grounds, including its more than 100 trees. Each year, after surveying the damage done to the trees by the winter, Burks chose new ones to replace them, looking for ones that would add color to the landscape.
In his memory, Viatorians planted a red oak tree with a marker bearing his name. The memorial will be dedicated later this spring when the tree comes into bloom.
"He was more like a partner than an employee," said Fr. Daniel Hall, CSV. "He loved the school, he loved the Province Center, he loved the people."