Talk about a good sport.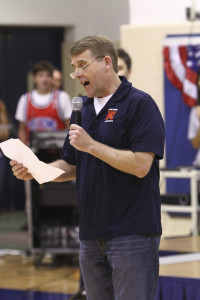 Fr. Corey Brost, CSV, a lifelong and devoted fan of the St. Louis Cardinals, found himself eating crow, so to speak, after his beloved team lost to the Chicago Cubs in the National League Division Series earlier this month.
In a friendly rivalry, Fr. Brost made a bet with Kyle Jenkins, a physical education teacher and assistant football coach at the high school. If the Cubs won, Fr. Brost agreed to sing Steve Goodman's iconic song, "Go Cubs Go" in front of the entire student body.
He did, at the homecoming pep rally, where all of the students, faculty and staff cheered his performance.