How's this for consistency? Fr. Daniel Lydon, CSV, President of Saint Viator High School, kicked off the school's milestone year on Saturday with an outdoor Mass — centered around the theme of service.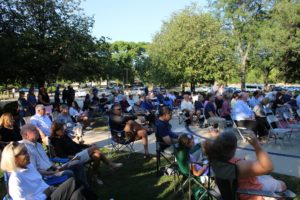 Specifically, in his homily he gave examples of Saint Viator and Sacred Heart of Mary alumni over the school's 60 years who had served others.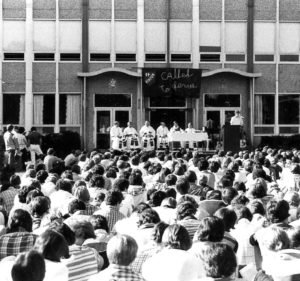 In promoting the Mass and follow-up block party, school officials posted a #TBT photo of an outdoor Mass — celebrated in the same space in front of the school — with a banner overhead that underscored its theme: "Called to Serve." While the photo was not dated, it appears to be from around 1976, or 45 years ago and 15 years after the school opened.
Then, as now, Saint Viator High School pledges to "form students who are faith-filled, intellectually inspired, ready to serve, and fully engaged in the Viatorian mission."