Pomp and circumstance was in full display as 245 graduates of Saint Viator High School received their diplomas at the school's 50th commencement ceremony.
Included in the class were 32 legacy students, or children of alumni of Saint Viator.
The celebration was an emotional one, as Fr. Robert M. Egan, CSV, officiated the ceremony in the closing days of his eight-year tenure as president.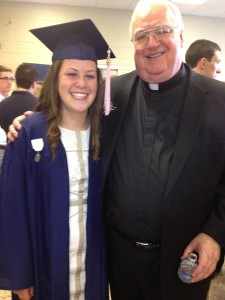 "You've learned inherent values of community," Fr. Egan said. "You've seen the values of the gospel in these corridors, in this school. And those values will sustain you.
"These four years will have been a success if you leave here with an open mind and an open heart," he added, "if you've learned compassion and forgiveness, and to serve others."
Every graduate was accepted to college, and they head to some of the most prestigious schools in the country, from Georgetown, Boston College and the University of Notre Dame; to the University of California at Berkley and UCLA. The most popular choices include the University of Illinois, and Marquette and Loyola universities.
"Saint Viator has prepared us well for the variety of challenges we will face as time goes on," said Conor Kinasz, valedictorian. "It is our preparation and conquering of life's challenges — that will unite us as one."