They started as freshmen, at the end of  Saint Viator High School's historic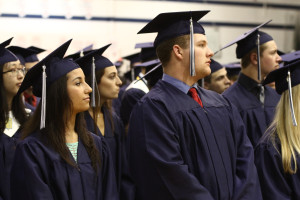 50-year anniversary celebration, and over their four years, they saw the school enter its iPad era and experienced its improvements from its $14 million renovation — from the Scanlan Center to the state-of-the-art Marie Gallagher Academic Commons.
Looking ahead, they have lived through the dust and re-arrangement of the
cafeteria that will result this August in the Fr. Louis Querbes Hall, a multi-media enabled 500-seat collegiate style dining hall, and a new performing and visual arts facilities.
Yes, these 246 graduates helped usher in a new era at Saint Viator, and now they head off to college with that same sense of confidence and intellectual independence, rooted in Catholic principles.
Their college choices are impressive: from Boston College, Georgetown and the University of Notre Dame, to the University of Illinois, theUniversity of Wisconsin and St. Louis University, the top three respectively.
Equally as impressive is the amount of scholarship money they drew: more than $25 million.
Yet, even as these graduates leave, this much we know: That as Saint Viator graduates, they go into the world with a strong sense of God's love for them and their unique role in God's plan — to serve and improve the world.