It has been 30 years since Fr. Charles Bolser, CSV, took over as principal of Saint Viator High School as it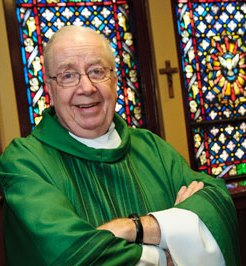 merged with the former Sacred Heart of Mary High School to become a co-educational institution.
Ultimately,  he would be named president and serve 12 years at the school before being assigned as pastor of Maternity BVM Parish in Bourbonnais, president of Cristo Rey St. Martin College Prep in Waukegan, IL, and most recently as pastor of St. Viator Parish in Chicago before retiring in 2015.
However, he wasn't down for long. "Retirement" took on a whole new meaning for Fr. Charlie, who regularly says Mass at local parishes and for religious communities, while helping out with development efforts at Cristo Rey St. Martin and Saint Viator High School. He also began serving as chaplain for the boys' golf team at Saint Viator.
Now,  he has ramped up his involvement at the school he once ran. At the beginning of the 2017-18 school year, Fr. Charlie has returned to the school as its chaplain. He settled into a highly visible office near the entrance to the Marie Gallagher Academic Commons, where his door is always open.
"I am there for students — and for faculty," Fr. Charlie says. "I want them to know they can come to me any time and talk, with no strings attached. There are no academics involved."
Look for Fr. Charlie to help out his confreres also serving at the school — Fr. Dan Hall, CSV, and Fr. Dan Lydon, CSV — by pitching in to celebrate all-school Masses, alumni Masses and with retreats.
"I want to help heighten the Viatorian presence in the school," Fr. Charlie says. "This is a Viatorian school, this is what sets us apart. I want to do everything I can to help advance our mission."