Justin Johnson '11, is one of the first Saint Viator alumni to qualify for the Olympic Trials — and he is the first to admit that the work ethic he learned in high school, got him there.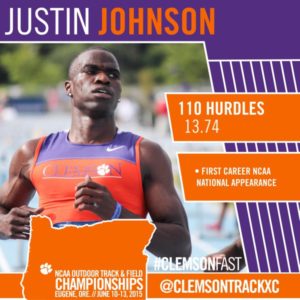 The former standout in track and field — who broke five school records while at Saint Viator — competed in the men's 110 meter hurdles this month at the trials in Eugene, OR.
Justin, a 2015 Clemson University graduate, was among more than 200 collegians to compete for a spot on the U.S. Olympic team. He advanced through to the quarterfinals, but he ultimately had to withdraw due to a recurring injury that returned.
Saint Viator Boys' Track Coach, Rodero Warren, and the rest of the team were following his progress. After all, he felt like one of their teammates.
In May, Justin returned to Saint Viator to train for the trials, after the same injury forced him out of the NCAA national championships.
"As with all the kids who come to Saint Viator, they become family no matter where they go from here," Coach Warren added. "He jumped right into our workouts, which is a tradition with many of our alumni."
Justin arrived the week before the East Suburban Catholic Conference meet and was there to support the Lions at the Illinois High School Association sectional meet.
"We had our highest placing in conference history and sent the most athletes to the IHSA State meet ever," Coach Warren says.
Justin's berth to the Olympic trial capped an astounding college career, which was especially surprising since he wasn't recruited out of high school.
Instead, Justin went to St. Norbert College in De Pere, Wisc., whose athletes compete at the Division III level within the NCAA. As a freshman, he would bring home the 110m hurdles national championship and set the D-III meet record, which still stands today.
While at St. Norbert, Justin competed on the football team and in track, while also co-founding the Diversity Club and pursuing his degree in communications.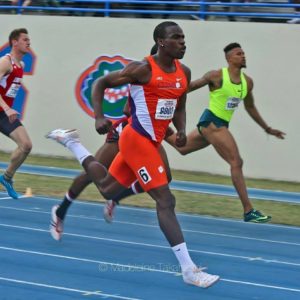 He transferred to Clemson before the start of his junior year and stepped up his track and field competition to Division I in the hotly contested Athletic Coast Conference.
Justin would go on to win the 110 meter hurdles at the ACC championships in 2015 and ultimately be named first team All-American, but his success did not come easily.
"Dedication and perseverance were two things that I learned at Saint Viator," Justin says. "I was able to grasp the concepts and put them to work in many facets of my life."
Coach Warren says Justin brings that determination to every race and every situation he faces, even in his battle with epilepsy, which resurfaced recently.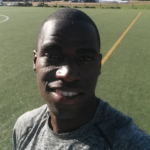 "He is still very shy and soft spoken, and I couldn't get him to give a speech to our team," Coach Warren says. "Instead, he jumped into our workouts. You have to appreciate his silent service."
Justin himself says that when he's up against odds — in life — he perseveres and tries harder, just as he does in every race.
"Life puts hurdles in your path," Justin says, "but the key is not to focus on the hurdles, but focus on the finish and reaching your dreams."