The first day of fall sports at Saint Viator High School drew a pair of professed
religious to the football coaching staff. Fr. Dan Hall, CSV, returned to the varsity where he has coached special teams for nearly 20 years and this year, one of his former players joined him, Br. Peter Lamick, CSV.
"I get tremendous joy from it," Fr. Hall says of coaching. "As a coach, kids come and talk to you about things they wouldn't when you're their classroom teacher.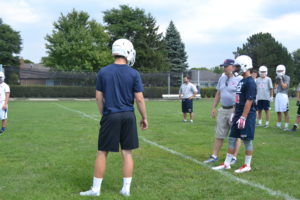 "It's another avenue of communication," he adds. "You really get to know the kids."
Br. Peter is coaching running backs on the freshmen team. He brings to the role his four years at Saint Viator, where he was a lineman, as well as his college experience playing running back for the Benedictine University Eagles.
Beyond his love of the game, Br. Peter credits football and the team aspect of it — as well as his former coach, Fr. Hall — with helping him discern a call to religious life.
"The experiences I had playing football in high school helped instill in me some critical values," Br. Peter says. "It feels odd to say that a sport played such an important role, but God finds a way to reach us no matter where we are or what we are doing.
"In football," he adds, "I discovered I loved being a part of a community with a common mission."
Br. Peter continues to work on his master's degree in education at DePaul University, but he still has time to coach and help out in Campus Ministry.