A rocket scientist from Silicon Valley found himself in something of a time machine, as he returned to his roots to be honored as a distinguished alumni at Saint Viator High School.
Jim Fruchterman, class of 1976, lives in Palo Alto, CA, where he serves as president and CEO of a nonprofit company dedicated to using new technology to empower persons with disabilities.
But at the hall of fame induction, Fruchterman became emotional when he remembered who had instilled in him the value of service: the Viatorians.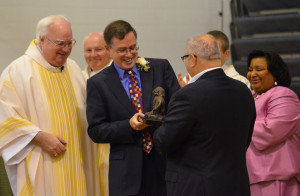 "At Saint Viator, I met priests who combined a love of math and science, with a life of service," Fruchterman said. "Especially Fr. (Arnold) Perham and Fr. (John) Milton, they were the ones who got me going and set me on this path."
Fruchterman met with students the following day, where he described himself as a "hard core nerd," who often spent Saturday mornings in detention because of his tardiness, and regularly read one science fiction book a day.
"I wanted to be a scientist," he shrugged.
He did. Fruchterman earned an engineering degree from California Institute of Technology, before designing a patternrecognition systemfor smartmissiles. Then, a turning point occurred. He realized he could use the same recognition system to help people with physical challenges.
His company, Benetech, developed a reading machine for the blind using the same recognition system, before they developed an electronic lending system for the visually impaired, called Bookshare. In 2007, the U.S. Department of Education awarded the project $32 million over five years to expand the availability of electronic books and the software for reading them.
He had this advice for students: Look for a mentor. Teach others. Follow your passion. Stay open to the possibilities. Try to make a difference where there is injustice, one person at a time.