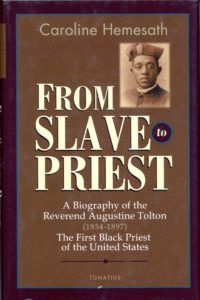 After reading a review about this book "From Slave to Priest: A Biography of the Reverend Augustine Tolton (1854-1897) – The First Black Priest of the United States," I was surprised to learn of a connection with the Viatorians. Rev. Tolton attended an annual retreat at St. Viator College in Bourbonnais, IL just before his death.
Looking in the July 1897 issue of the"The Viatorian" – the college newspaper – I found this mention of the retreat: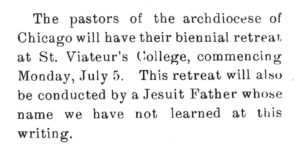 According to the biography, the heat at that time was 105 degrees. After leaving the three-day retreat, he headed back to St. Monica's, his parish in Chicago. After stepping off the train, he walked toward the parish, but grew weak and collapsed on the sidewalk. On the evening of July 9, 1897, he died in the hospital of heat stroke and uremia.  Rev. Tolton died at the age of 43, nearly 120 years ago.
The Viatorian connection is minimal, the college wasn't even in the book index. But this connection is what led me to the book: I realized Tolton's life is what is important, not his death.  This biography, of a man and his love of God, is an interesting story of persistence and faith.
Joan