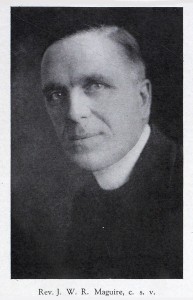 #Throwback Thursday on the ViatorianUSA Facebook page this week featured Fr. John W.R. Maguire and his anti-injunction bill.  He received a standing ovation when he presented the bill in 1925 to the IL House of Representatives. The bill became law – protecting the rights of workers.
Fr. Maguire was a leader in working for the social justice issues of his times.  His life's work would make an excellent topic for a research project or paper.
The Viatorian Archives holds the personal papers of Fr. Maguire, who was instrumental in resolving numerous labor disputes back in the 1920s and 30s.
His collection contains 7 boxes of materials which include correspondence, writings, radio addresses, lecture notes, photographs, publications and two unpublished biographies.  Here is a link to his materials.