One day before the start of the new school year, a complicated moving expedition took place. It involved four men and several hours of work, who transported a pair of historic statues of the Blessed Mother and St. Joseph, out of storage and into a place of prominence in the Alumni Memorial Chapel at Saint Viator High School.
"I've known about them for the last 10 years or so,"  says Fr. Daniel Lydon, CSV, president of Saint Viator High School. "It's been my dream to restore them to a place of prominence."
The statues are believed to date back to the 19th Century in Italy. They are carved out of white marble and each one weighs nearly 600 pounds. Originally, they were commissioned by Viatorians for St. Viator College, which they established in Bourbonnais in 1865. However, a disastrous fire in 1906 destroyed every building on campus except the gymnasium, but miraculously they were able to save the statues.
When Viatorians closed the college in 1938, the statues moved to one of their residences on Sheridan Road in Chicago. Viatorians sold that building in the 1980s and the statues moved with them. In recent years, the statues have been in storage in the Province Center and now they are once again seeing the light of day.
Featuring them in the Saint Viator High School chapel not only preserves a bit of history, Fr. Lydon says, but a bit of Viatorian history into this sacred place.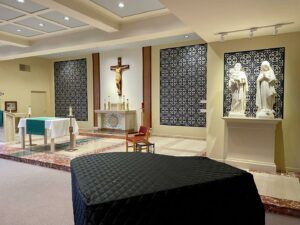 In making a new home for the pair, craftsman built a special pedestal — with a matching one for St. Viator on the other side of the altar — and securely fastened it to the wall. Moving the statues involved scaffolding and dollies, and the four men needed to position them in place.
The chapel has been undergoing a renovation since last February, when a partial wall was removed behind the altar. School officials have been working with Daprato Rigali Studios in Chicago, whose artists specialize in church renovation, and are experts in uncovering churches' original architectural elements.
Restoration work continues, with a new tabernacle and navy blue chairs due to come in. But the first Mass to be offered this semester will take place at 7:30 a.m. Friday, for students and faculty before school, with the historic statues now in place.