The shooting tragedy in Las Vegas drew a swift response from members of the Viatorian Community who
have ministered in the region for more than 60 years.
 At St. Viator Catholic Community, led by Fr. Richard Rinn, CSV, pastor, and Fr. Lawrence Lentz, CSV, assistant pastor, the parish has organized a prayer service that starts at 7 p.m. tonight in the church, while Viatorians at St. Thomas More Catholic Community in nearby Henderson — Fr. Daniel Nolan, CSV, pastor, Fr. Michael Keliher, CSV and Fr. Alan Syslo, both associate pastors — also will lead a prayer service at 5:30 tonight.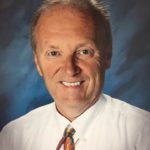 "We will pray for all those affected by this unimaginable tragedy that has come to our city," says Br. Rob Robertson, CSV. "We are stunned and saddened."
Br. Rob serves as a counselor at St. Viator School, where in response to the tragedy, they rounded up the more than 500 students and led them in the praying of the rosary this morning.
As far as Br. Rob knows, only one set of school parents attended the concert where they shooting took place, but they were not injured, he said. However, many parents kept their children home from school today, he added.
At Bishop Gorman High School, where Viatorians also work, all school activities and athletic events were canceled as the school community struggles to come to grips with the scope of the mass shooting. Associate Kim Martinez and the rest of the Campus Ministry staff worked throughout the day to console students and help them deal with the tragedy.
Let us pray:
Lord, we pray for those who have been devastated by this tragedy.
We remember those who have lost their lives so suddenly.
Bring them consolation and comfort.
Surround them with our prayers for strength.
Bless those who have survived and heal their memories of trauma and devastation.
May they have the courage to face the days ahead.
Help us to respond with generosity in prayer, in assistance,
and in comfort to the best of our abilities.
Keep our hearts focused on the needs of all the community.
We ask this in Jesus' name.