Syrian refugee, Marwan Saffaf, and his three young sons sat in the front row of a prayer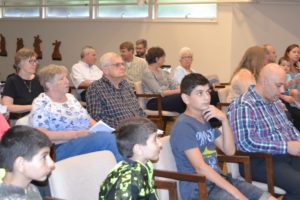 service hosted on the International Day of Peace — that drew from Christian, Jewish, Muslim and Buddhist traditions.
"We join our hearts with people of all faiths," said Fr. Corey Brost, CSV, "who raise their hearts in prayer for the people of Syria."
The Viatorian Community hosted the service with the Sisters of the Living Word, and it filled every seat at the Viatorian Province Center chapel. At the heart of their interfaith prayer, were the people of Syria, including the  more than 250,000 who have died in its civil war — and the nearly 6 million who have fled as refugees.
Marwan and his family were among them.
A former branch manager of a bank, he and his wife and four children fled the country and its religious persecution — in search of a better, safer life.
Marwan came first, arriving nearly three years ago. Viatorians have accompanied him nearly every step of the way, since meeting him when he spent nearly six months in detention.
Last summer, his three sons obtained visas to make the trip from the United Arab Emirates, where they had fled, but his wife and oldest daughter remained behind, awaiting their visas.
"Thank you to everyone who helped us and prayed for us," Marwan said after the service. "We are still waiting for the second part of our family, but we want everyone to pray for peace in Syria. It is horrible there."
Since August, the family has moved into an apartment, furnished with the help of the Sisters of the Living Word, Viatorians and Faith Community Homes. The boys attend three different schools — elementary school, middle school and high school — and are assimilating quickly to the culture.
"Getting to know Marwan and his children has been a spirit-led venture," said Sr. Carrie Miller, SLW. "God placed them right here before us and asked us to do what we could."